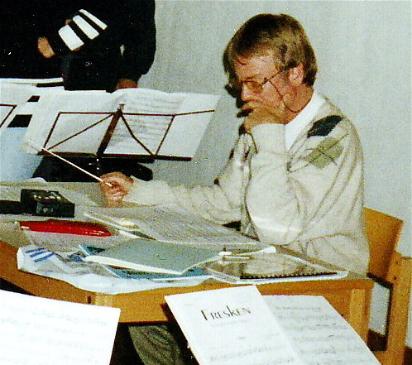 Audiences usually see conductors in action, waving their arms around and gesticulating at a patient and tolerant orchestra. In fact though, conductors spend much more time simply thinking - studying scores and planning.
Many conductors also actually write music - either arrangements of music by other people or original compositions of their own. This also helps them to conduct better, because they know personally how sounds can be put together to produce certain effects.
Keith Harris has done a fair bit of both thinking and writing over the years, and this page contains a few examples of things he has thought about.

A few of many Compositions and Arrangements

Details: Diamantina Suite (VF 1579), Boccherini Fandango (VF 1468), Reunion russe (VF 1405) - published by
Vogt and Fritz
Three Miniatures -
AMMA
...and a sample of his recordings
Apart from writing music, Keith Harris writes articles, mainly to do with the mandolin, for various journals.
Something he, at least, regards as important, is his educational book The Mandolin Game, which treats basic principles of mandolin playing in great detail and in a way that has never been done before. People who know the book are divided into those that think it is wonderful, and, not suprisingly, those who don't. Very high praise has come from the great Russian domra (a cousin of the mandolin) player, Tamara Volskaya. She wrote:
"We have never had anything like it. It is essential for every mandolin player, and in fact for anybody who plays a plucked string instrument."
The book is published by Trekel of Hamburg in both English (TB 2010) and German (TB 2009).